Our global network of certified service providers
Moodle Partners are our global heroes, offering certified Moodle services world-wide such as consulting, installation, support, theme design, training, courseware creation and of course hosting.
Ten percent of any money you pay to a Moodle Partner goes towards the Moodle project, so by choosing a Moodle Partner you are helping Moodle software to evolve.
If you want your company to join our group you should start with a Partner Certification Application.

Moodle Partners offering Consulting in United States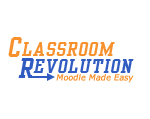 ClassroomRevolution
offers a wide range of commercial Moodle services for clients located in North and South America.
ClassroomRevolution
provides consulting exclusively for our hosting clients. With over 20 years of educational experience, our consulting staff includes published academics as well as certified Linux server administrators. Such diversity allows us to provide our clients with access to expertise that is simply unparalleled in the industry.
---
Moodlerooms provides solutions to meet all Moodle needs, including joule our full-service solution.
Moodlerooms is a trusted provider of the cloud-hosted, managed open-source and SaaS learning management platform. With enterprise-level service and support, organizations can dedicate their time and resources on what really matters- the success of their learning programs. Moodlerooms takes a consultative approach to assessing a client's service needs and creates the perfect fit for their particular organization. Organizations have the ability to choose the features and services they need to advance their learning program. At any point in the subscription, clients can configure their platform as they wish or increase their level of service and support. Learn how we can help configure your platform.
---
We offer a consultation service available to both current and prospective Moodle users. If you're already using Moodle, we can advise you on how the platform can be developed to better serve your needs. If you're considering Moodle, we're happy to discuss your requirements, advise you on hosting, training, etc. and answer any questions you might have.
---