Our global network of certified service providers
Moodle Partners are our global heroes, offering certified Moodle services world-wide such as consulting, installation, support, theme design, training, courseware creation and of course hosting.
Ten percent of any money you pay to a Moodle Partner goes towards the Moodle project, so by choosing a Moodle Partner you are helping Moodle software to evolve.
If you want your company to join our group you should start with a Partner Certification Application.

Moodle Partners offering Support in United States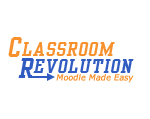 ClassroomRevolution
offers a wide range of commercial Moodle services for clients located in North and South America.
ClassroomRevolution
offers usability and pedagogical support services exclusively for our hosting clients through our flexible
annual support contracts
, which are available either online or by telephone, are easily tailored to meet the needs of small and large organizations through our use of cost containment and accountability standards.
---
Moodlerooms provides solutions to meet all Moodle needs, including joule our full-service solution.
Moodlerooms is a trusted provider of the cloud-hosted, managed open-source and SaaS learning management platform. With enterprise-level service and support, organizations can dedicate their time and resources on what really matters- the success of their learning programs. Moodlerooms takes a consultative approach to assessing a client's service needs and creates the perfect fit for their particular organization. A dedicated, in-house staff provides on-going support for the continuing success of Moodlerooms learning solutions. Moodlerooms plays an active role in ensuring that a your learning platform is in top form, regardless of whether or not a support request is submitted. Moodlerooms establishes collaborative relationships with its clients, instead of providing assistance only when needed.
---
We provide a full support service and can assist you in all aspects of getting your Moodle installation up and running. We offer ongoing technical support via telephone, web and email. Refresher training is also available to keep all users up-to-date with ongoing developments in Moodle.
---