Our global network of certified service providers
Moodle Partners are our global heroes, offering certified Moodle services world-wide such as consulting, installation, support, theme design, training, courseware creation and of course hosting.
Ten percent of any money you pay to a Moodle Partner goes towards the Moodle project, so by choosing a Moodle Partner you are helping Moodle software to evolve.
If you want your company to join our group you should start with a Partner Certification Application.

Moodle Partners offering Themes in United States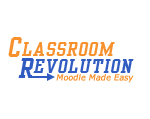 ClassroomRevolution
offers a wide range of commercial Moodle services for clients located in North and South America.
ClassroomRevolution
provides theme development services exclusively for our hosting clients. Have you ever come across a stylish Moodle site that stands out from the crowd? Then chances are that you have already seen our work. Our
Moodle themes
have been used by hundreds of organizations over the past few years.
Our
Moodle hosting
clients are invited to use any of our available Moodle themes, or we can design a custom theme from scratch. Theme development and customization is always included in the standard price of each of our Moodle hosting accounts.
---
Moodlerooms provides solutions to meet all Moodle needs, including joule our full-service solution.
Moodlerooms is a trusted provider of the cloud-hosted, managed open-source and SaaS learning management platform. With enterprise-level service and support, organizations can dedicate their time and resources on what really matters- the success of their learning programs. Moodlerooms takes a consultative approach to assessing a client's service needs and creates the perfect fit for their particular organization. Moodlerooms clients have access to our Express Design templates which provide theme options that can be applied using CSS and HTML. Our joule customers also receive a block unique to joule for clickable branding using color selectors, logo uploads, font styles and HTML color codes.
---
We can provide a custom theme for your Moodle, designed according to your specifications. We will work closely with you to ensure that your Moodle theming matches your existing brand identity.
---